Vargal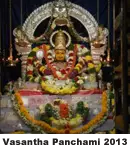 Saraswathi Temple- Sri Vidya Saraswathi temple is located in Vargal Village, Medak district, the temple has a unique rock formation and a valley around this hill. Along with Saraswathi temple Shani temple is also there in Vargal village with a big statue measuring around 3 feet height which is one of the biggest statue of lord Shani in Telangana Sate.
The hillock of Vargal has multiple temples on the same hill.
1. Sri Vidya Saraswati temple
2. Sri Lakshmi Ganapathi Temple
3. Lord Shanishwara Temple
4. Lord Shiva Temple
For Lord Shani Special pooja will be performed on every Shani Trayodashi which comes on the Saturday. The poojas for Lord Shani were starts at 5 a.m. in the morning with Ganapathi pooja and Japam. Homam will be performed with Tarpana to Lord Sheni. The Homam for Lord Sheni will be completed at 12:00 noon with Poornahuthi, Arathi and etc., this is a very big event for this Vargal temple which attract 1000′s of devotees from all over Telangana, Andhra Pradesh and other places from India.
Vargal Saraswathi temple has a big dining hall which serves 100 people at a time, everyday 100 people were given free food.
Some special pujas are performed at Vargal Saraswathi temple are Chandi Homam which is a special event here.
Annual Events:
Vasantha Panchami Mahotsavam
Sharan Navrathi Mahotsavam
Shani Thrayodashi
Transport:
The Vargal Saraswathi temple is around 55 kilometers from Hyderabad in the way of Hyderabad to Karimnagar on Rajiv Rahadari.
Temple Contact Details:
Village & Mandal : Vargal (Wargal)
District                : Medak
State                   : Telangana
Phone                 : 08454-255035
Mobile                 : 9247851122