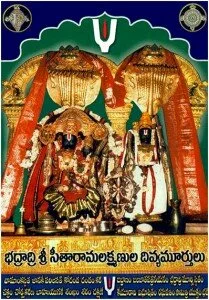 The Sree Seetha Ramachandra Swamy temple at Bhadrachalam is a famous temple in Telangana State and this famous temple is dedicated to Lord Rama, is situated on the bank of river Godavari. It is a place of pilgrimage for Hindus, considered to be one of the greatest holy shrines in South India.
Bhadrachalam temple was constructed by Kancharla Gopanna popularly known as Bhakta Ramadas in the year 1674 A.D.
Festivals:
Vykuntha Ekadasi:
Vykuntha Ekadasi" a famous festival is celebrated in the month of December or January in Dhanur Masam on the day of either Pushya or Margasira shuddda Ekadasi, this Vykunta Ekadasi Festival attracts lakhs of devotees from Telangana, Andhra pradesh states and from all over the country at this famous shrine Bhadrachalam.
Vaaggyakaara Mahotsavam
Vaaggeyakara Mahotsavams are being celebrated every year to remember Bhakta Ramadasa, a vaaggeyakara and an ardent devotee of Sri Rama. Vaggeyakaara mahotsavams are being celebrated during Mukkoti Ekadasi by inviting renowned musicians.
 Sri Rama Navami Brahmotsavams
The most populat festival – Sri Rama Navami is being celebrated on every Chaitra Shuddha Navami on the auspicious Punarvasu – Janma Nakshatra of Lord Sri Rama.
The Kalyanamahotsavam of Sri Rama with his consort Sita is celebrated on this holy occasion which falls in the month of March or April. The Kalyanamahotsavam is celebrated between 10.00am – 12.30pm and this is the only festival which being broadcasted by All India Radio and telecasted through Doordarshan as a Live Program.
Seva:
Suprabatam Darshan                                                      – 4.30 – 5.30am
Tiruvaaradhana Bala Bhoganivedana, Havanam  – 5.30 – 7.00am
Abhishekam                                                                       – 7.00 – 8.00am
Special Darshnam                                                            – 7.00 – 8.30am
Sahastra Naamarchana                                                  – 8.30 – 9.30am
SAKALA ABHISTASIDDHI PRADA SRIRAMA PUJA    – 8.30 – 9.30am
Ordinary Darshan                                                             – 8.30 – 11.30am
Astotharam                                                                        – 8.30 – 9.30am
Nitya Kalyanam                                                                 – 9.30 – 9.30am
Mini Kalyanam                                                                  – 9.30 – 9.30am
THIRUVARADHANA, PRASADA NIVEDANA           – 11.03 – 12.00am
Sarvadarshan                                                                     – 12.00 – 1.00pm
Temple Close                                                                     – 1.00 – 3.00pm
Ordinary Darshan /Astothara Pooja                         – 3.00 – 6.00pm
Evening Prayer                                                                  – 6.00 – 6.30pm
Sakala Abhistasiddhi Prada Srirama Pooja           – 6.30 – 7.00pm
Sarvadarsan/Astothara Pooja                                     – 6.30 – 8.30pm
Prabhutva Seva                                                                 – 7.00 -8.00pm
Bogam, Yekkanta Seva                                                  – 8.30 – 9.00pm
Temple close                                                                     – 9.00 – 4.30am
Accommodation:
In Badrachalam, excellent accommodation facilities are available – Tourism Hotels, Government Guest Houses, Cottages, Sadanams, Private Hotels and Lodges. These are available from 60/- to 2000/-
Transport:
The Badrchalam temple is located in Khammam District with a distance of 120 km. and 300kms from Hyderabad.
Nearest Airport is Vijayawada and nearest railway station is Kothgudem with a distance of 40km.
Bus facility is available for every hour from Kothagudem, Khammam, Nalgonda, Hyderabad, Vijayawada and from other cities.
Visiting Places in Badrachalam:
Parnasala
Dummugudem
Gundala
Sree Rama Giri
Jattayu Paaka(Yetapaka)