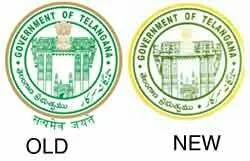 Telangana gets its new emblem-logo
India's 29th state, Telangana gets its emblem-logo finally approved by Central government with minor changes.
The logo embraces the cultural mixture of the Kakatiyas and the Charminar with incorporating the Ashoka Chakra.
The Changes are:
In the previous logo Satya meva Jayathe is placed outside the circle, where as in new logo it is moved to inside the circle, and the outside circle color is changed to gold color, and also the charminar logo came with 4 minars to visible instead of 3 minars in the previous logo.
The emblem was designed by noted artist from Telangana, Laxman Aelay.