Sri Raja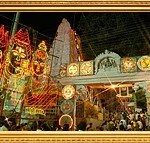 Rajeshwara Swamy Devasthanam – Vemulawada

Sri Raja Rajeshwara Swamy Devasthanam – this temple is placed in vemulawada village of Karimangar District in Telangana State, It is one of the ancient and famous Shiva temples.
This Shrine is popularly known as 'Dakshina Kasi' and also as "Harihara Kshetram" for their being two Vaisnava Temples in main Temple complex i.e., Sri Anantha Padmanabha Swamy Temple & Sri Seetharama Chandra Swamy Temple and Sri Anantha Padmanabha Swamy is Kesthra Palaka of this Temple being consecrated with Pujas/ festive rituals [both Shivate & Vaisnavate festivals] and Sreerama Navami is the 2nd major festival in this temple.
Historical Importance:Historically this place was the capital of the Vemulawada Chalukyas who ruled from AD 750 to AD 973.
This temple is located at a distance of 53kms from Karimnagar, Telangana.
Arjitha Sevas:-
Rudrabhishekam
Laghunyasapurvaka Rudrabhishekam
Annapuja
ShivaKalyanam
MahaLingarchana
Mahapuja
Kumkumapuja
Kode puja.

Temple Address:-
Executive Officer
Sri Raja Rajeswara Swamy Devasthanam
Vemulawada
Karimnagar Dist
Telangana
Pin: 505302