Thousand Pillar Temple – Warangal
Thousand Pillar Te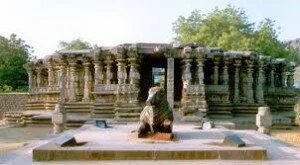 mple is a historic Hindu temple located in the town of Hanamakonda, Telangana, India. It is dedicated to Lord Shiva, Lord Vishnu and Lord Surya.
History:
The Thousand Pillar Temple is one of the very old temples of South India that was built by the kakatiyas. It stands out to be a masterpiece and achieved major heights in terms of architectural skills by the ancient kakathiya vishwakarma sthapathis. It is believed that the Thousand Pillar Temple was built by King Rudra Deva in 1163 AD.
It contains one temple and other building. There are one thousand pillars in the building and the temple, but no pillar obstructs a person in any point of the temple to see the god in the other temple.
It was destroyed by the Tughlaq dynasty during their invasion of South India.
Temple Architecture:
The Thousand Pillar temple is star-shaped with several shrines and lingams. There are three shrines inside the temple called the Trikutalayam. The three shrines of the Thousand Pillar Temple are dedicated to Lord Shiva, Lord Vishnu and Lord Surya. The Thousand Pillar Temple is surrounded by a big garden in which many small lingam shrines can be seen. There are 1,000 richly carved pillars and a Nandi bull in the temple. The Nandi bull was carved out of a black basalt monolith that has been highly polished.
The Thousand Pillar Temple is constructed on a platform that is raised to one meter height from the ground level. The temple is provided with a number of pillars which are intricately carved and adorned. Rock cut elephants and perforated screens in the temple are characteristic of the then prevailing dynasty. Many piligramages will be visiting and even film scenes are also picturised here.
Transportation:
Airway
Rajiv Gandhi International Airport in Hyderabad is the nearest airport to warangal which is at a distance of 140 km from the city.
Railway
Warangal is well connected to all major Indian cities. Warangal railway station and Kazipet junction are two major stations under south central railway division.
Warangal railway station is located on Delhi-Vijayawada-Chennai route; Kazipet railway station is located on Delhi-Kazipet-Secunderabad route.
Kazipet junction has a high traffic of more than 100 trains passing through it every day.
Road
Numbers of busses are available to Warangal from Hyderabad, Secunderabad, Karimnagar and from all other cities of Telangana and Andhra Pradesh.
The Temple is about 143kms from Hyderabad and 60kms from Karimnagar