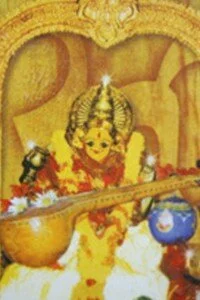 Sri Gnana Saraswathi Temple / Devastanam – Basara.
The Gnana Saraswathi Temple is located on the bank of river Godavari at Basara village Adilabad, Telangana. The Gnana Saraswati temple at Basara is one of the two famous Saraswati temples in India, the other 2 temples are being in Jammu & Kashmir.
Basara Saraswathi temple is famous for Akshara Abhyasam, now a days there is a huge traffic of pilgrims coming to Basara to perform "Akshra Abhyasam" for their children before commencing formal school education.
Special pujas and celebrations are held at the temple during Maha Sivarathri and Devi Navarathrulu for ten days during Dassera.

Apart from Sri Gnana Sarawathi Devi Temple, few other places to visit near Basara.
Sri Mahankali Temple
Sri Dattatreya Temple
Sri Vyasa Maharshi Guha
Sri Vedavathi Shila (Sri Vedavathi stone)
Godavari River
Lord Shiva temple at river Godavari bank
How to reach Basara:
Basara is well connected with Road and Rail routes.
By Train:   Basara has a railway station and it is only 2.5km distance to Gnana Saraswathi Devi temple. From Secunderabad railway station multiple trains are there.
By Road:  Number of Busses are available to Basara Saraswathi temple from Hyderabad, Secunderabad, Nizamabad and various cities from Telangana state.
The temple is about 210kms from Hyderabad, 34kms from Nizamabad and 200kms from Karimnagar.
Accommodation Facilities:
Basara Gnana Saraswathi temple has good accommodation facilities.
There are multiple guest houses with AC and Non-AC features
Tirumala Tirupathi Devasthanam (TTD) Guest House (100 rooms) with 100/- and 200/-
Vemulawada Guest House AC with 1000/-
Rajanna Nilayam AC with 1500/-
Dwaraka Tirumala Guest House AC with 1000/-
Vijayawada Kanakadurga AC with 800/-
Sri Yadagirigutta Guest House AC with 800/-
Sri Srishaila Mallikharjuna Guest House AC with 800/-
Apart from these major accommodation facilities, there are about 20 private lodgings are also available.
Contact Basra Devastanam:
The Executive Officer
Sri Gnana Saraswathi Devasthanam,
Basara, Village,   Mudhole – Mandal.
Adilabad. Pin – 504101,
Telangana
India.
Devasthanam Phone number        (91) 08752 – 243503
Executive Officer (Office)            (91) 08752 – 243550